Gustavus Adolphus College
Capturing the brand of a college that has an "ethos of complete humility" could have been a difficult task…if they didn't wear it so well. Our work for Gustavus proves our theory about higher education brands: they are not created; they are discovered. A brand needs to be authentic and expressed with uncommon passion.
BD&E immersed itself in the Gustavus culture to find that it truly lives out its core values of faith, justice, service, community and excellence. With a tradition of academic excellence and working for the common good, the brand position "Make Your Life Count" could not be more true to this school.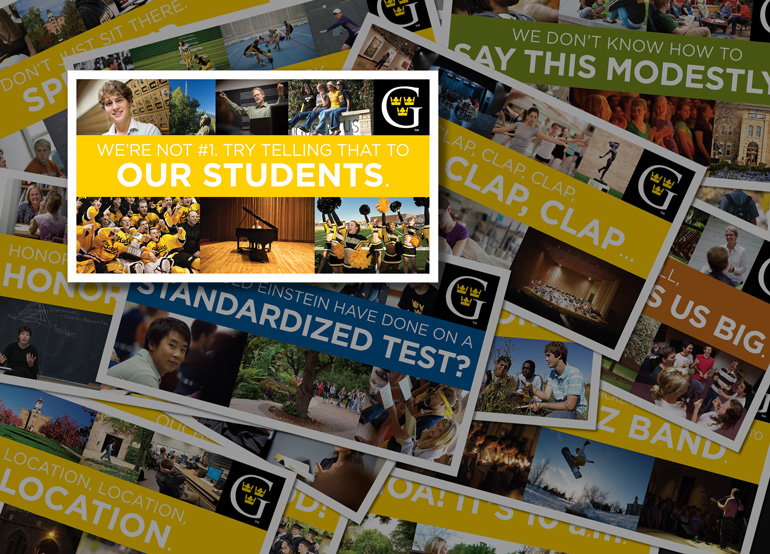 Marketing Collateral and Advertising
BD&E created an innovative brand and marketing campaign that gained record-breaking results. Compared to the 2009-2010 academic year, there was a 51% increase in applications and a 21% increase in deposits, making the Class of 2015 the largest first-year class in Gustavus history! In addition, there was a 14% increase in campus visits and an 18% increase in racially underrepresented students.
BD&E also launched a Minnesota statewide advertising campaign for recruitment. Targeted to reach high school students and their parents, the ad campaign included newspaper, magazine, radio, outdoor, and social media outlets.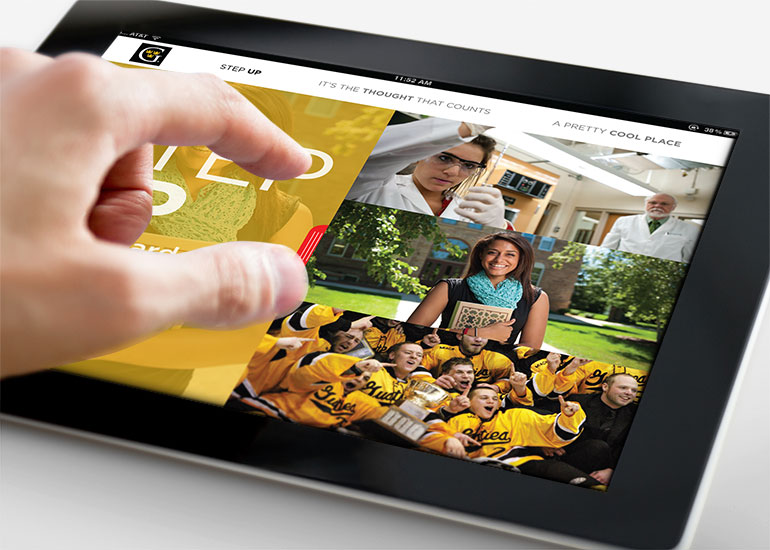 The Gustavus Universal App
In a market saturated by traditional communication materials like beautifully designed viewbooks and robustly informative websites, colleges and universities struggle to differentiate via innovative delivery mediums. BD&E partnered with Gustavus to develop the custom-designed and programmed Gustavus universal app. The application is uniquely designed to allow prospective students to browse photos, videos, quotes, information, and submit an application for admission. Or simply, to experience Gustavus Adolphus College.
150th Anniversary
Gustavus Adolphus College kicked off its Sesquicentennial celebration in September 2011 as more than 750 alumni and friends of the College gathered for a festive, black-tie affair!
Charged with the creation of four videos for the event, BD&E captured the attention and the emotions of this large audience. Most prominently through a powerful historical reflection titled, "150 Years and Counting." Supported with music, photographs and a captivating script, it was overwhelmingly received. To view additional videos, wander over to the official BD&E YouTube Channel.