Although Heinz is synonymous with ketchup, The Kraft Heinz Company is one of the world's leading producers and marketers of condiments, sauces, meals, soups, beans, seafood, snacks, and infant foods. Heinz provides delicious foods to more than 200 countries.
BD&E was honored to work with this global consumer icon whose heritage is rooted in our hometown of Pittsburgh. Having operations across the globe creates an enormous challenge in effective brand management. BD&E responded by creating a web-based program to manage the digital assets that comprise the complex identity. Developed to reside on a proprietary supply chain platform, it gives the ever-growing Kraft Heinz Company, and its suppliers, access to hundreds of files. Every possible application — from consumer packaging to location signage — can be consistently controlled.
Heinz Field Identity
When Heinz invested $57 million to name the new home of the Pittsburgh Steelers, BD&E was chosen to create the visual brand. The newly named "Heinz Field" would be host to additional events — from University of Pittsburgh Panthers football games to highly visible entertainment events.
BD&E's ingenious identity system allowed for the flexibility needed to promote these multiple events while maintaining the characteristics of the globally recognized Heinz brand. BD&E was also part of the launch team, assisting in the comprehensive integration of the brand throughout the stadium. The most prominent and unique application? By far, the two, 35-foot ketchup bottle replicas that "pour" into the jumbotron upon significant game highlights.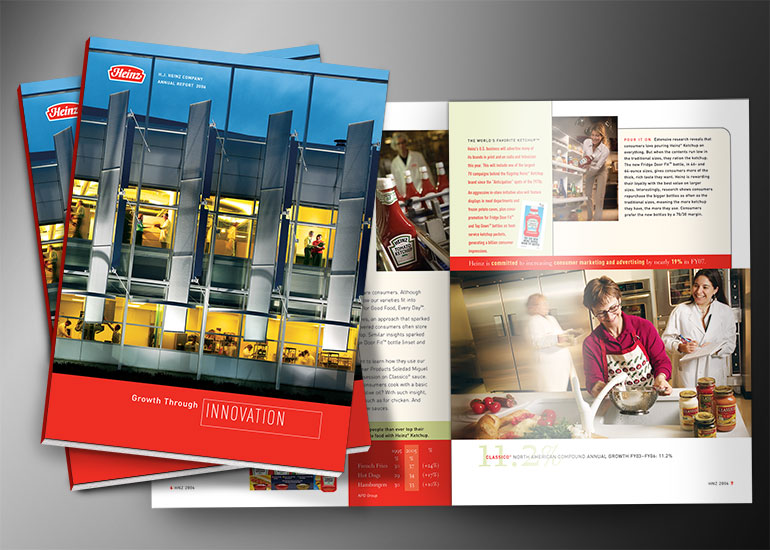 Annual and CSR Reports
High-level investor relations and corporate reporting materials are a mainstay in the BD&E portfolio. Among these are the Heinz Annual Report to shareholders and the Heinz Corporate Social Responsibility Report. BD&E's extensive experience in the creation of financial communication ensures companies like Heinz the effective delivery of accurate and engaging reports to their most important audiences.

Ketchupsaurus
As participants in the Carnegie Museum of National History's public art exhibit, Heinz once again called upon BD&E for creative help. This time, in the design of a 10-foot triceratops! From dozens of dino designs, Heinz chose the transformation of this giant dino into the most iconic of its brands…the glass ketchup bottle. Working with an automotive body specialist, BD&E had the dinosaur's snout reconfigured and its body painted with high-gloss red lacquer. Final details included authentic labeling, right down to the digital code on the white cap. So uniquely intriguing, this one-of-a-kind species — Ketchupsaurus — is sought out by thousands of ketchup lovers each year.